Ethnographies of Parliaments, Politicians and People
A team of scholars around the world are exploring the ruptures in relationships between politicians and others in society in Brazil, Ethiopia, Fiji, India, the UK and the US. Our research focuses on crises of representation and pathways towards more inclusive and well-informed communication between politicians and people. This coalition of experienced ethnographers will remould how elected representatives are studied both within and outside parliaments. This research will position anthropology as an even more intellectually influential, and potentially transformative, source of scholarship on politicians and everyday politics. With an European Research Council (ERC) Advanced Grant of €2.5 million, our aim is to reshape the study of parliament globally by 2024.
The Team
We are all Fellows of the Global Research Network on Parliaments and People, co-ordinating different aspects of this comparative research programme:
Emma Crewe (SOAS, University of London) co-ordinates the programme globally, with the assistance of Amir Massoumian (SOAS), and researches the US while Cristina Leston-Bandeira (Leeds University) also guides the team and liaises with networks. Within specific countries, Richard Axelby (SOAS University of London) researches in India and the UK, Cristiane Brum Bernardes (Legislative School of Brazilian Chamber of Deputies) leads the team in Brazil, Jastinder Kaur (SOAS University of London) researches in Fiji and Mitiku Gabrehiwot Tesfaye (Mekelle University, Ethiopia) co-ordinates the research in Ethiopia. We have two advisors: Gerhard Anders (University of Edinburgh) on ethics and Shirley Van Der Maarel (University of Manchester) on visual anthropology.
The researchers' views on anthropological theory, methods, ethics and sensibilities
What is our ethics approach?
We have ethics approval from our institutions and funder, the European Research Council (ERC), which required the compilation of over 30 documents and 100s of pages. Research ethics conventionally tends to focus on compliance with law (especially data protection) and participants' consent, but we find this approach far too narrow. We are just as concerned about our wider impact on each other, the people we study with, and the environment. So, we have discussed and arrived at a consensus about our commitment to ethical principles and practices as a team. We see ethics as complex and often contradictory, requiring debate and negotiation. For examples of contradictions, consider these: challenging hate speech may put us in danger; seeking consent might put some informants in a state of worry; one interlocutor's honesty can be falsehood for another, and so on.
We propose taking 10 principles seriously as we develop our approach. We have documented our commitments in an Ethical Approach to Research. We will regularly review how we are doing against these principles and report to our Ethics Advisor, Dr Gerhard Anders (University of Edinburgh), and in our reports to the ERC, while he reports to the ERC at regular intervals as well. We may update this document as we deepen understanding of what ethics means in our specific research programme. The PI will take overall responsibility for the implementation, review and evaluation of ethics while all members of the team have responsibility for aspiring towards these shared principles and processes.
What are we researching?
Relationships between politicians and the people they represent are in turmoil and this is no more evident than on social media. Although the digital revolution has created unprecedented scope for political expression and debate, potentially acting as a connective tissue binding the public to politicians, the sobering reality of echo-chambers and post-truth populist memes has tempered the optimism of many. In embracing social networking, politicians have exposed themselves to daily criticism for perceived breaches in their legislative and representative responsibilities.
The institutions that lie at the heart of our democracies – parliaments – are under constant attack by the media and disdained by the public and they are also under-researched by scholars. At a time when in-depth political scrutiny has a vital role to play in addressing democratic deficits, this research will uncover the relationships between parliaments, politicians and people as expressed and shaped by political communication especially in six democratic states: Brazil, Ethiopia, Fiji, India, the UK and the US.
A talk about how anthropologists research parliaments and politicians and what they have discovered

Major Publications

To see our publications on parliaments and people, go to the GRNPP library and search under our authors. Over the coming years we will produce books and articles but also podcasts, digital media and visual outputs in collaborative with creative enterprises.
In our first major publication within this programme – Emma Crewe's book on the Anthropology of Parliament: entanglements in democratic politics – is an overview of global anthropological research on parliaments over the last fifty years. The point of this work is to deepen understanding of the complexity of political institutions. She writes about how elected politicians navigate relationships by forging alliances and thwarting opponents; how parliamentary buildings are constructed as sites of work, debate and the nation in miniature; and how politicians and officials cope with hierarchies, continuity and change.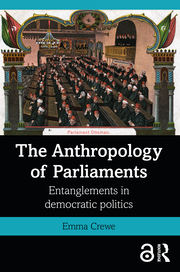 This book also contains a proposal about how to study parliaments through an anthropological lens while in conversation with other disciplines. The dive into ethnographies from 34 countries across Africa, the Americas, Asia, Europe, the Middle East and the Pacific Region demolishes hackneyed geo-political categories and culminates in a new comparative theory about the contradictions in everyday political work. It reveals the tracking of riffs, rhythms and rituals in parliament as a systematic way to study patterns of interaction. It is available free as an e-book.
According to reviewers:
"With characteristic wit and imagination, Emma Crewe casts her anthropological eye across the spectrum of parliamentary politics. This book is the product of those enquiries – it is sparklingly fresh, insightful, and as ever with this author, more interested in illumination than condemnation." Jonathan Spencer, University of Edinburgh, UK.
"This is a pioneering anthropological exploration of parliaments from the UK to East Africa and South Asia, through a rigorous, imaginative and productive crossing of disciplinary boundaries. Emma Crewe's study of the sociality of parliaments – elections, representation and scrutiny – is complemented by a fascinating account of the culture of parliaments – their rhythms, riffs and rituals – both drawing on a formidable volume of primary research, from the constituency-level to every imaginable aspect of parliamentary practice." Niraja Gopal Jayal, Jawaharlal Nehru University, India.