Jastinder Kaur reflects on the 2022 general election in Fiji, drawing on her research as a political anthropologist of Fiji politics, coups, and society.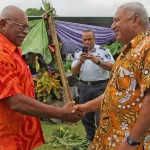 On 14 December 2022 Fiji goes to the polls for the third time since the resumption of electoral democracy in 2014. The primary contest is between two of the country's former military coup leaders, one of whom, Frank Bainimarama, is the incumbent Prime Minister; while his opponent, Sitiveni Rabuka, is a former Prime Minister.
The continuing shadow that they cast over Fiji's political landscape is more critical now than ever. People in the 21-30 age group comprise the largest group of registered voters in the country but had a significantly low voter turnout (60%) in the last election. Fiji's youth have little to no personal memory of Rabuka's coup in 1987, but they have grown up under Bainimarama's 2006 coup and the long shadow of his rule since then.
The choice facing Fiji's youth next month is largely between two coup leaders who cumulatively have been at the helm of the militarisation of politics for the last 35 years. Many young people also see them as ageing leaders: Rabuka is 72, Bainimarama is 68 and has recently had health problems. Together, they epitomise a political system dominated by older, big-man politicians, as well as a historical predilection for undemocratic behaviour.
But there is another dimension at work in Fiji politics and in the forthcoming elections, namely, ethnicity. It intersects issues of democracy, militarisation, and ageing leadership in complex ways.
The ethnicization of politics in Fiji can be traced back to British colonialism (1874-1970), under whose pluralist technology of control indentured slaves were brought over from British India to develop the colony's economy through sugarcane farming. 60% of them opted to make Fiji their home, post-indenture, and developed as a community largely separately from the country's Indigenous Fijians. The latter were governed by their chiefs under indirect rule, and were prevented from fully participating in the life of the colony beyond the village; primarily due to the paternalistic sentiments of Fiji's first substantive governor, Sir Arthur Gordon. Fiji's Indians, meanwhile, emboldened by the independence movement in India, pursued equal statusin the colony and set up Fiji's first political party as well as its trade union movement.
The separation of Indigenous Fijians and Indo-Fijians in Fiji has also been enshrined in the electoral system since the long century of colonialism, with franchise bringing communal rolls whereby people were required to vote for candidates from their own ethnic categories, Seats in Parliament were accorded to them proportional to their population size. Consequently, Indigenous Fijians and Indo-Fijians have long related to each other as opponents involved a competitive struggle for the telos of the state, oriented around the principles of ethnic paramountcy and equality, respectively. The contest can be parsed as that between natives and immigrants, and extends as it does today in other parts of the world to issues of identity, rights, belonging, and access to resources (political leadership among them).
In 2014, Fiji moved to political representation based on one-person, one-vote, extending the common roll voting that has at times been a feature of the landscape, and removing altogether the communal voting requirements of the past. It is ostensibly a move towards post-ethnic statecraft in a country with a culture of coups. Despite this, however, ethnicity continues to shape people's voting behaviour – in large part because the ethnic political parties of old continue to be associated with, and even position themselves as, either Indigenous Fijian or Indo-Fijian. The country's coups feed into this dynamic.
Rabuka's 1987 coup was and continues to be associated with Indigenous Fijian ethnonationalism, as epitomised by the phrase 'Fiji for Fijians' and the experiences of Indo-Fijians following that coups leading to emigration and exclusion from affirmative action policies in the decade that followed. Rabuka is mindful of his legacy, and has posted videos on TikTok during this election campaign to confront his own past and reassure Indo-Fijians they have nothing to fear from him. His People's Alliance Party has also formed a coalition with the National Federation Party, whose origins and traditional over base is Indo-Fijian.
In contrast with Rabuka'c coup, Bainimarama's 2006 coup and the sweeping constitutional changes and policies he has introduced since then are regarded as favouring Indo-Fijians. His government talks of policies and developments that benefit 'all Fijians', in a move designed to displace ethnicity as a primary structuring principle of the Fiji state. Yet he is less willing to engage with the electorate via political debate, and has responded to Rabuka's TikTok strategy with claims that leadership is a serious business.
Rabuka's and Bainimarama's coups of 1987 and 2006 respectively could not be more different from an ethnic point of view. And this will play into voters' selection at the ballot box come 14thDecember, just as much – and perhaps more given their reported apathy – as the youth vote. But there is a third factor to consider in the forthcoming elections, which cuts across ethnicity and age, namely, the Bainimarama government's alleged authoritarianism.
Opposition to Bainimarama is not limited to Indigenous Fijians fearful of losing their sovereignty over Fiji and its resources (land, in particular). His style of leadership, in partnership with his Attorney-General Aiyaz Sayed-Khaiyum, has generated political fear and intimidation amongst the public and political opponents, including Indo-Fijians.
Amnesty International recently took up the cause of a prominent Fiji lawyer convicted for pointing out a typo in a court judgement. This is the latest in a long line of ongoing causes for concern about free speech and human rights in Fiji. Parliamentary opponents, for example, often find themselves hauled in by the police for questioning for expressing a political opinion, while government Ministers who fall foul of the leadership have been victims of smear campaigns.
Coups, ethnicity, autocracy, and ageing leadership are driving people's concerns about political representation in Fiji, and together they form a complex assemblage of factors that will weigh heavily on people's minds as they prepare to vote on 14th December.